Crawlspace Encapsulation in Omaha, Nebraska
---
Have you noticed a musty odor in your home lately? Don't tolerate that nasty, damp smell. Contact a waterproofing specialist. Crawlspaces with high moisture levels are a perfect habitat for mold, insects and airborne pollutants.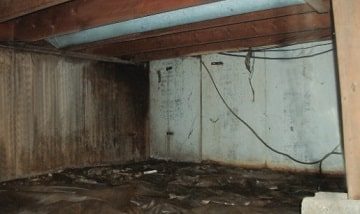 Left untreated, mold and mildew can create an unpleasant odor that affects the air quality of your entire home. Chronic dirt, humidity and structural issues are also signs of crawlspace issues that need immediate attention. At Jerry's Waterproofing, we offer crawlspace repair with crawlspace encapsulation for wet, damp crawlspaces. This method involves the use of a vapor barrier installed into your crawlspace to prevent water damage from occurring. Having a dry crawlspace will not only prevent foundation problems, it will increase the longevity of your foundation for many years to come.
In addition to mold and high moisture, look for other signs of crawlspace problems such as:
Cold upper level floors during winter
Rusty metal appliances
Insect infestation or rodents
Wet insulation
Open crawlspace vents
Respiratory issues
Peeling paint on home's exterior
High radon levels
Wood rot
Efflorescence on crawlspace walls
If you have any of these issues, contact Jerry's today. We can inspect your crawlspace to determine the source of your wet crawlspace. We offer crawlspace encapsulation to transform your moldy crawlspace into a dry foundation.
A vapor barrier liner covers the entire area of the crawlspace, including the ground, walls and concrete supports. A vapor barrier is made out of a puncture and tear resistant liner used to prevent evaporation of ground moisture, and keep water from entering through the ground and walls. Also, vapor barriers guard homes against harmful gases such as radon. We can combine a radon mitigation system with a vapor barrier to significantly lower radon levels.
If installed with a waterproofing system, water can be removed from the crawlspace before it leads to water damage.
Benefits of Crawlspace Encapsulation in Nebraska
There are many benefits to installing a crawlspace vapor barrier. Not only do they lower utility costs, they make your home comfortable. They offer the following advantages:
Improves air quality
Prevents mold and mildew
Lowers utility bills
Increases the value of your home
Provides insulation
Prevents water intrusion
Easy installation
Energy efficiency
Protects pipes
Keeps the floors comfortable year-round
Gain valuable, useful storage space
Jerry's Waterproofing provides excellent workmanship. We use appropriate materials and tools to keep your crawlspace clean and dry. Contact us today if you need crawlspace encapsulation in the Omaha, NE area. We provide free estimates!