Sump Pump Solutions in Iowa & Nebraska
---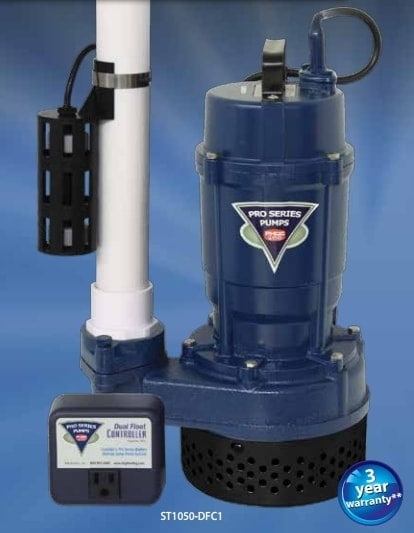 A wet basement can cause not only damage to personal possessions and keep you from have extra living area, but it can cause structural damage and also promote the growth of mold and mildew. Health issues can arise when you have mold and mildew growing and getting into the air that you breath. It is important that you have the proper waterproofing products and solutions to keep your home safe and dry.
Looking for that extra piece of mind next time the rains come in? Look no further than Jerry's Waterproofing, Inc. We understand that cleaning up after a flood in your basement is a tiring and stressful. Whether your basement is being flooded from a simple pipe breaking or if you are experiencing a flood, it is important to take care of it properly by having a professional come in and provide you with sump pump installation Omaha. Flood damage can be very destructive to your house and your valuables, so you must take the precautions necessary to handle the situation.
Flood Prevention with Sump Pumps in NE and IA
Having a sump pump installed will ensure that flooding does not occur under every time it rains, and for serious floods, it can be used to remove the water that would overload a single pump. Thankfully, Jerry's Waterproofing only uses the best products to protect your basement when you need it and is very experienced with sump pump installation in Omaha. We have been servicing the Eastern Nebraska and Western Iowa areas since 1976, and we continue to provide reliable and professional services. A sump pump will save you money in the long run and maintain the value of your home.
Jerry's Waterproofing only uses the best products to protect your basement. These products are manufactured by Glentronics. When we install these pumps, we install quality. A popular pump that we found to be reliable and efficient is the ST1033. This 1/3 HP pump moves water at 2770 GPH at 10' capacity. The 3-year warranty will give you peace of mind that your home is protected from water damage.
Battery backup pump system are also available. These pumps are all 100% factory tested, automatic, and can be completely submersed. They are all highly efficient and designed for reliability to protect your basement. Pumps feature reliable cast iron switch cases, housing for the motor and pump, float switch arms made from stainless steel, a strong .3HP motor, and a clog-resistant vortex impeller. When you have sump pump installation by Jerry's on your home, you will have a plan to prevent future flooding in your home.
Whether you need new sump pump installation or just want to add peace of mind with a battery backup system, we have the right solution for you. Call us today at Jerry's Waterproofing.
Click the files below to view the type of sump pumps we offer.
ST Series Sump Pump (ST1033)
Deluxe Dual Float & Controller (DFC2)
ST1033 and PS-C22 spec sheet