Crawl Space Common Problems in Iowa and Nebraska
The crawl space is one of the most disregarded and neglected spaces in a home. But because a crawl space is part of the home, what happens in the crawl space can affect the entire home, so they need to be checked for some common problems.
Check your crawl space for rotting or sagging floors. Crawl space rot can lead to mold in your home and sagging floors can damage the entire structure of your home. Also, crawl space rotting and sagging floors can encourage termites to enter.
Check your crawl space for mold. Mold in a crawl space means there is damage to the wood and leads to mold throughout the home.
Check your crawl space for insects and dead animals. A crawl space can easily become a space for insects and animals. This will cause the odor to seep into your home.
Check your crawl space for standing water. A flooded crawl space can lead to major problems in your home.
During hot and humid weather, this hot, humid air enters the crawl space through vents, and the humidity in your home rises.
Standing water or moisture in the crawl space provides the perfect environment for mold growth and other moisture problems. Mold grows where there are three elements present: moisture, food, and warm temperatures. A crawl space generally has all three and moisture is the dominant factor. If you have noticed high electric bills, this can be a sign that you have high humidity in your crawl space.
Let the professionals at Jerry's Waterproofing examine your crawl space in Iowa or Nebraska and find the solution for your damaged crawl space. We can help prevent long-term issues that could arise from a damaged crawl space.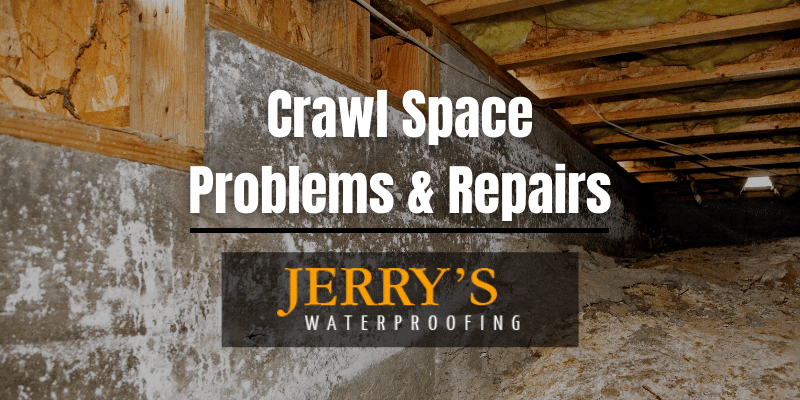 Solutions for Iowa and Nebraska Crawl Space Problems
Your crawl space can be saved by having Jerry's Waterproofing install a vapor barrier. A vapor barrier will damp-proof your crawl space and diffuse moisture that can seep into your living space creating high humidity levels. The products used for crawl space encapsulation are made by Earth Contact Products (ECP), the leading manufacturer of foundation repair and basement waterproofing products made in the industry.
Vapor barriers stop the movement of water vapor. The ECP vapor barrier used by Jerry's Waterproofing is designed to prevent moisture from entering the crawl space using a triple-ply woven high-density polyethylene membrane. These barrier guards against mold, mildew, allergens, fungus, radon, and heat loss.
ECP vapor barriers are made of a 10 or 16 mils thick, puncture-resistant polyethylene membrane. It has the highest strength to weight ratio, highest tensile strength, and tear resistance of any product available.
This vapor barrier is placed on the foundation wall and sealed with an ECP polyethylene tape, an aggressive adhesive seam tape designed for vapor barrier material, and has a low water vapor permeance and bonds to surfaces over a wide temperature range.
Get the Solution You Need from Jerry's Waterproofing
Not all crawl space vapor barriers are created equal. That is why when using Jerry's Waterproofing and the ECP products, you are getting the best. Getting the job done right the first time will save you money in the long run. Let Jerry's Waterproofing with over 30 years of experience, inspect your crawl space and give you the solution you need. Our crawl space encapsulation and vapor barrier solutions will keep your home a healthy one and save you money on energy bills. Contact us today for a free estimate.
---