Jerry's Waterproofing, Inc.
Basement Waterproofing & Foundation Repair in Omaha
Jerry's Waterproofing, Inc. has been providing professional waterproofing and foundation repair for Eastern Nebraska and Western Iowa for over thirty years. If you own a home in Omaha, Nebraska, or western Iowa and have discovered signs of basement leaks or foundation settlement, Jerry's Waterproofing team can provide you with a customized solution that will get your home back to normal in no time.
In addition to basement waterproofing and foundation repair services, we also provide radon testing and mitigation, egress window installation, and crawl space repair services. The experts at Jerry's Waterproofing will work hard to make sure that the project is done quickly and professionally in exactly the manner you expect.
Why Choose Jerry's Waterproofing?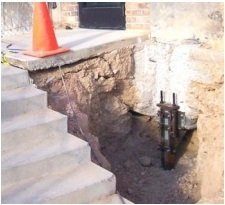 The Jerry's Waterproofing team has been serving Iowa and Nebraska for decades. These years of experience have given us an edge of our local competitors. We focus on the customer first and treat each repair job we do like it is the only thing that matters. We understand that we are working on your home or business, and to you it IS the only thing that matters. From cracked foundations to wet basements, basement windows to radon testing, our team can find the solution you need that fits your budget. No job that we do is considered done until you are completely satisfied.
At Jerry's Waterproofing, we use products from ECP (Earth Contact Products), the top name in the industry for foundation repair and basement waterproofing products. Our products and installation services provide your Nebraska or Iowa home the stability and protection it needs.
At Jerry's Waterproofing, Inc., the customer always comes first.