Plate Anchor Installation in Iowa and Nebraska
---
If you have bowing or leaning basement walls in your Iowa or Nebraska home or business, this is one of the signs of foundation settlement. Bowing or leaning walls are caused by hydrostatic pressure pushing on the walls. Hydrostatic pressure is caused by excess groundwater, which causes foundation movement and causing walls to bow or lean. In order to repair your bowing walls and prevent further damage, Jerry's Waterproofing can install plate anchors. These plate anchors are used to correct several wall issues such as: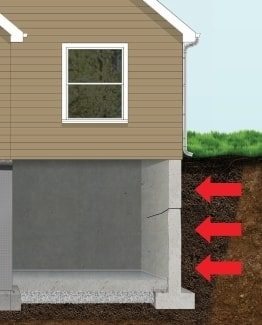 Leaning foundation walls
Bowing foundation walls
Rotating foundation walls
Bulging foundation walls
Cracks in foundation walls
To install plate anchors, Jerry's Waterproofing will remove a small section of sod in the yard adjacent to the affected wall. In the next step, the plate anchor is augured into the ground. A small hole is drilled through the affected wall and a rod is driven into the hole which is then connected to the plate anchor outside. Next, a wall plate is attached over the rod on the interior of the basement wall. This plate is tightened until the wall is back to its original level. The sod is then replaced and the hole is filled, leaving little mess behind. Plate anchors also strengthen the wall so that it won't bow or lean in the future.
Jerry's Waterproofing uses only the best products for foundation repair and basement waterproofing. These products, including plate anchors, are manufactured by Earth Contact Products (ECP), the leader in the manufacturing of foundation and waterproofing products in the industry today.
Benefits of Installing Plate Anchors
The plate anchors from ECP are fabricated from high-quality steel and reinforced with several reinforcing ribs to add strength to the plate anchor. They are also galvanized to protect against corrosion. ECP plate anchors are one of the most economical solutions to repair bowing or leaning walls. The benefits of installing plate anchors for bowing or leaning walls include:
Minimal excavation required
Little disturbance to the yard
Quick installation process
Gradual straightening protects the integrity of the wall
Applies lateral force to stabilize the wall
Does not utilize floor joists for support
Little to no maintenance required
Easy to conceal when finished
Restores value to the home
If you have bowing or leaning walls in your Iowa or Nebraska home or business, it is important to have a professional come and inspect your foundation and offer the repair solutions needed to get your foundation and bowing walls repaired. The experts at Jerry's Waterproofing has the experience and uses the best products to get your bowing walls and foundation repaired.
We have been serving Eastern Nebraska and Western Iowa since 1976. We have established an outstanding reputation and we intend to keep it that way. We put our customers first and we will answer all of your questions and concerns. For bowing or leaning wall repair in Iowa or Nebraska, contact the professionals at Jerry's Waterproofing today.