Radon Testing and Mitigation
---
It is colorless, odorless, and naturally occurring. It is also radioactive and the second leading cause of lung cancer in the United States. Radon is found in small quantities throughout the U.S., both indoors and out. When the concentrations reach too high a level indoors, however, it can be hazardous to your health. That is when you need radon mitigation services.
At Jerry's Waterproofing, we are qualified in radon mitigation with licenses in both Iowa and Nebraska. Contact us today if your home or business has radon problems.
What is Radon?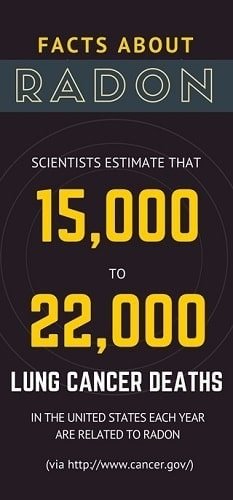 Radon is a radioactive gas that has no color, no taste, and no odor that is created by the natural breakdown of radioactive materials including uranium in the soil. Found in the soil and groundwater, radon can enter homes and other buildings by seeping up from the ground through wall or floor cracks, spaces, or drains. Radon is chemically-nonreactive and easily penetrates building materials such as sheetrock, concrete block, mortar, sheathing paper, wood paneling, and most insulations. All homes contain a small amount of radon.
The national average indoor radon level is estimated to be about 1.3 pCi/L, and about .4 pC/L of radon is normally found in the outside air per the EPA (United States Environmental Protection Agency).
The primary ways of human exposure to radon are inhalation and ingestion. It enters living spaces through the ground, groundwater, or building materials.
Health Effects of Radon
Surgeon General verifies that exposure to radon is the #2 cause of lung cancer death among those who do smoke, and the #1 cause of lung cancer death for those who do not smoke in the United States.
Radon is responsible for 21,000 lung cancer deaths each year in the United States. It is especially harmful to people whose lungs are already weakened from smoking, but 10 percent of the lung cancer deaths related to radon occur in non-smokers.
Along with cancer, it has also been linked to:
Emphysema
Silicosis
Pulmonary fibrosis
Chronic pneumonia
Respiratory lesions
Did You Know?: Symptoms of Radon
Though radon is linked to lung cancer, it does not cause headaches, nausea, or other symptoms common to indoor pollutants.
Why Radon Mitigation Matters in Iowa and Nebraska
All of Iowa and the eastern portion of Nebraska are in the the EPA's Zone 1, the portion of the United States with the highest concentration of radon. Remember how the average indoor radon level in the United States is 1.3 pCi/L?
In Iowa it is 8.5 pCi/L. That is more than six times the national average. The average level in the state of Nebraska is 5.0 pCi/L.
There is some thought that the glaciers that spread through the Midwest during the ice age deposited rock with radon-producing minerals. Regardless of how it ended up here, however, if you live in Iowa or Nebraska we highly recommend having your home tested for radon.
What Radon Levels Are Acceptable?
The EPA suggests that the action level for radon contamination is 4.0 picocuries per liter of air. That means that levels 4.0 should be examined for radon mitigation.
But how do you know how much radon is in your home? That is where radon testing comes into play. Radon tests come in two types, short-term and long-term. Short-term tests last at least two days, while long-term tests usually track levels for at least 90. Radon levels can fluctuate over time, so long-term tests can spot problems that short-term tests might miss.
Read more about radon testing.
Did You Know?: Radon Levels Vary By Season
For reasons ranging from homes typically being more enclosed to ice and snow making it more difficult for radon to naturally dissipate through the ground, radon levels are typically higher during the winter.
Read more on the difference in radon levels by season.
Radon Mitigation Methods
The most commonly used method for Radon Mitigation is a Sub-Slab Depressurization (SSD) system.
This method involves using a fan and PVC pipe to draw air from below the sub-flooring and exhausts it to the outside. The fan creates a vacuum under the sub-flooring and pulls the radon to the outside air away from windows and other openings in your home.
Installation of this system is normally completed in less than a day.
Contact Jerry's Waterproofing for Radon Mitigation
At Jerry's Waterproofing, we are a qualified radon mitigation contractor. It is very important to use a properly-trained mitigator. Our experts have taken the proper training courses and examinations to become licensed in radon mitigation in both Iowa and Nebraska. Don't leave it to a non-professional. It is important to get this problem taken care of as soon as possible.
We take great steps to design an aesthetically pleasing radon mitigation system to your home. Our mitigation specialists do a great job designing a system that does not distract from the home. Give us a call and let one of our mitigation specialists come out and survey your home. We will give you the best solution for your home for protection of your family. Let us help give you peace of mind that your home doesn't contain harmful levels of radon.
For more information on radon in your Iowa or Nebraska home, visit the following websites: https://idph.iowa.gov/radon or https://dhhs.ne.gov/Pages/Radon.aspx.