Radon Services in Iowa and Nebraska
---
What is Radon?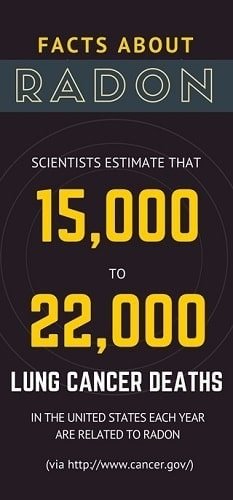 All homes contain a small amount of radon. The national average indoor radon level is estimated to be about 1.3 pCi/L, and about .4 pC/L of radon is normally found in the outside air per the EPA (United States Environmental Protection Agency). Radon is a radioactive gas that has no color, no taste, and no odor. Found in the soil and groundwater, radon can enter homes and other buildings by seeping up from the ground through wall or floor cracks, spaces, or drains. Though radon is linked to lung cancer, it does not cause headaches, nausea, or other symptoms common to indoor pollutants. However, it may be a problem in your home.
Radon is a colorless chemically-nonreactive inert gas that easily penetrates building materials such as sheetrock, concrete block, mortar, sheathing paper, wood paneling, and most insulations. Radon is a naturally occurring radioactive gas that comes from the breakdown of uranium found in most rock and soil. The primary ways of human exposure to radon are inhalation and ingestion. It enters living spaces through the ground, groundwater, or building materials. If you live in Iowa or Nebraska we highly recommend having your home tested for radon.
Jerry's Waterproofing is licensed with the States of Nebraska and Iowa to install radon mitgation systems. Surgeon General verifies that exposure to radon is the #2 cause of lung cancer death among those who do smoke, and the #1 cause of lung cancer death for those who do not smoke in the United States.

Radon Mitigation in Iowa and Nebraska
We are a qualified radon mitigation contractor with state licenses in IA and NE. It is very important to use a properly-trained mitigator. Our experts have taken the proper training courses and examinations to become licensed in radon mitigation. Don't leave it to a non-professional. It is important to get this problem taken care of as soon as possible.
The most commonly used method for Radon Mitigation is a Sub-Slab Depressurization (SSD) system. Installation of this system is normally completed in less than a day. Our mitigation specialists will install a negative vent (PVC) system that begins below the foundation of your home and extends up and ends at a point above ground level.
Jerry's Waterproofing is also licensed to install radon mitigation systems in Nebraska and Iowa and radon ready systems for new construction as well.
We take great steps to design an aesthetically pleasing radon mitigation system to your home. Our mitigation specialists do a great job designing a system that does not distract from the home. Give us a call and let one of our mitigation specialists come out and survey your home. We will give you the best solution for your home for protection of your family. Protecting your family is your number one priority. Let us help give you peace of mind that when you go to sleep at night, you can rest easy knowing that your home is the safest place to be.
For more information on radon in your Iowa or Nebraska home, visit the following websites www.epa.gov/iaq/radon or www.epa.gov/radon/pubs/consguid.html.