Helical Pier Installation in Iowa and Nebraska
---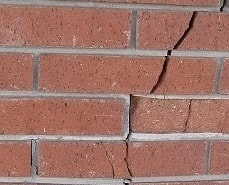 If your home has foundation problems such as sticking windows, settling foundations, sagging floors, or foundation cracks, you may need foundation repairs. Foundations that are exposed to high levels of moisture over a long period of time tend to encounter settlement. Ignoring these signs could lower the value of your property and compromise the structure of your home. At Jerry's Waterproofing, we can inspect your foundation and determine the source of your foundation issues. We offer quality helical piers by Earth Contact Products to make your foundation safe and sound.
Originally, helical piers, also called helical piles, were originally developed to structurally support lighthouses. Over the years, the use of helical piers has expanded, supporting foundations for new and old homes across the country.
Helical Pier Installation in Nebraska

A mini excavator or skid-steer loader with a hydraulic auger is used to install the helical piers. The installation process involves the following steps:
The footer is exposed and notched.
Piers are hydraulically screwed into the soil.
The weight bearing capacity of the pier is measured from the force it takes to rotate the pier.
The pier reaches suitable soil.
The top of the pier is cut at the appropriate height, then a lifting bracket is placed between the bottom of the footer and the top of the pier.
Hydraulic jacks lift the foundation.
Piers are secured, then the hydraulic jacks are removed.
The hole is backfilled.
Benefits of Helical Piers in Omaha, NE
Low impact installation process
Can be applied to constricted areas
Quick installation
More than one pier can be installed in one day
Can be installed to existing foundations
Strengthens foundations
Used for shoreside communities
Applied to new and old constructions
Little to no vibration during installation
Doesn't create excavation spoils
Environmentally friendly
All weather installation
Uses portable equipment
Applied to heavy commercial areas, additions, backyard decks, and more

Let Jerry's Waterproofing install helical piers to your damaged foundation in the Omaha, Nebraska area. We'll restore your foundation back to normal. Contact us today for a free estimate.