Basement Waterproofing
---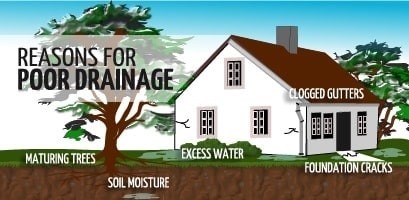 Does your home have poor drainage? Do you notice standing water? These conditions can leave your home vulnerable to water damage, loss of foundation stability, insect infestation, structural damage, and other soil-related issues. Since most of Nebraska consists of clay soils, the state is more susceptible to foundation problems than other areas. During heavy rainfalls, water saturates the soil around or beneath a home's foundation. As the water pressure increases in the soil, it creates pressure against the foundation walls. As a result, cracks and gaps form throughout the foundation wall. Water seeps through the cracks, creating standing water or flooding basements.
It is important for homeowners to keep water drained away from the foundation. Check the following areas of your home to prevent poor drainage.
Gutters/Downspouts: Missing gutters or insufficient downspouts can cause water to accumulate around your home. This excess moisture swells and expands clay soils, often causing foundation settlement.
Trees: Trees should not be planted too close to the foundation to prevent moisture from drawing away from the foundation.
Sloped Landscapes: If the land slopes toward the home, the lot may not be properly graded. Water may run towards the foundation rather than drain away.
Sprinkler Systems: Irrigation systems can saturate the soil in the wrong places and cause problems.
Inadequate Waterproofing System: Old or malfunctioning waterproofing products should be inspected regularly. Make necessary repairs or replace old waterproofing systems to prevent water disasters.
Basement Waterproofing Solutions
How can you prevent water disasters? The key is to control water and invest in an adequate waterproofing system. This will help maintain structural stability of homes and buildings. We provide the following waterproofing methods:


For basement waterproofing in the Omaha, Nebraska and Iowa area, contact Jerry's Waterproofing. We'll guard your basement against water damage and foundation failure.