New Construction
---
We offer a wide variety of Tremco® Waterproofing Products.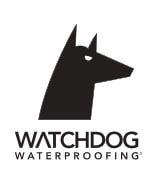 Watchdog® is a waterproofing membrane that is designed specifically for poured concrete foundations. It features a flexible, polymer-enhanced waterproofing membrane that is spray-applied to seamlessly bridge foundation settling cracks. This exclusive membrane remains elastic at low temperatures to provide year-round water resistance. Watchdog® comes with a 10-year transferable performance warranty.
TUFF-N-DRI® system, the nation's #1 brand of basement waterproofing, has been keeping basements leak-free since 1983. Tuff-N-DRI® is the only basement waterproofing system with performance that exceeds its 30-year transferable performance warranty. The secret is a unique system that combines an elastic membrane with a high-quality foundation board. This means homeowners can confidently install drywall, plush carpets, fine furniture, expensive home entertainment systems, office equipment, and exercise machines.
Warm-N-Dri® Board is a rigid fiberglass board that is installed on the exterior of your foundation walls as part of the TUFF-N-DRI® system.
DrainStar® strip drain product is designed to be used in combination with TUFF-N-DRI®, and WATCHDOG® WATERPROOFING products. DrainStar® can replace traditional drain tile and gravel systems, bringing you a variety of attractive advantages.
With DrainStar®, your contractor can install an effective foundation drainage system at the same time as your basement waterproofing system. You'll save scheduling time and hassles with just one contractor contact.
New Construction Services from Jerry's Waterproofing
If you are building new construction and are looking for ways to prevent basement water and foundation problems,
Jerry's Waterproofing has all of the solutions that you need. The brands listed above are some of the best in the business when it comes to protecting your new construction from structural and waterproofing issues. Some of the products that help to keep water issues from occurring in your new construction include:
Waterproofing Membrane
Drainage Board
Exterior Drainage Systems
Strip Drain Products
These are some of the products that we will install in your new construction to make sure that you will not have to deal with basement moisture. Contact the team at Jerry's Waterproofing for these great new construction solutions in Nebraska and Iowa.
New Construction and Radon Mitigation
If you live in Iowa, you need to be aware that Iowa has the highest average radon concentrations in the United States. In early 2015 laws were passed that require all new homes need to have radon mitigation systems installed. Many homes in Iowa exceed the EPA's action level of 4pCi/L.
Radon is a radioactive gas that is found in the soil and groundwater. It cannot be detected without a professional because radon gas has no color, taste or odor. It enters your home through wall cracks, floor cracks, spaces or drains. Radon gas decays into radioactive particles that get into your lungs. As they break down further, these particles release small bursts of energy that can damage lung tissue. This can seriously affect your lung tissue.
So if you are doing a new build, Jerry's Waterproofing can help you with your radon mitigation. We are licensed with the state of Iowa and Nebraska for radon mitigation. We have the experience and products to install a radon mitigation system in your new construction or existing structure.
For radon mitigation, we use the method of sub-slab depressurization (SSD) system. This can be installed in less than a day, so your new construction will continue to be on schedule. This method requires us to install a negative vent (PVC) system that begins below the foundation and extend up and ends at a point above ground level.
Contact Jerry's Waterproofing for your radon mitigation needs today.
Click Here to view all of the information on our available products.