Foundation Repair, Basement Waterproofing & More in Carroll, Iowa
---
Basement Waterproofing for Carroll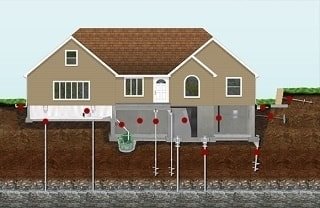 A wet basement can cause you to lose living space and ruin personal possessions. It is also a breeding ground for mold and mildew and pest infestations, which can cause several different health issues. To keep problems such as wood rot, metal rust, high humidity, insects or rodents, and mold growth away from your basement, invest in one of the basement waterproofing solutions from Jerry's Waterproofing:
Interior Waterproofing
Exterior Waterproofing
These are all services that we offer to prevent moisture from ruining your basement in Carroll and anything that you store down there.
Foundation Repair in Carroll
Many times when you are having waterproofing problems it is because you have a foundation issues that are causing cracks and water seepage. Foundations that start to shift and settle might be the result of too much water in the soil which causes the soil to expand, or too little water in the soil, causing the soil to shrink. As the soil moves, the foundation will move also, becoming an unstable base for the rest of the structure. Some of the signs to look for in and around your home are:
Floor cracks
Ceiling cracks
Leaning chimney
If you find these issues in your Carroll home, we can install helical piers or steel push piers. By anchoring these devices into the stable soils deep under your foundation, we are able to transfer the load off of the sinking concrete and lift the structure. Other solutions that we offer include helical tiebacks and wall anchors, which are designed to fix bowing and leaning basement walls by applying pressure that pulls them into place.
Our waterproofing and repair products are supplied by Earth Contact Products (ECP), one of the most renown and reliable names in the industry. You can be assured that your repair will be done professionally and last for years to come.
Radon Services for the Carroll Area
Jerry's Waterproofing also offers radon services if you need radon testing and radon mitigation in Carroll, Iowa. Since radon is an odorless gas, it's imperative to get your home tested. It can easily seep through wall cracks, insulation, and other openings in your home. In the US, radon is the number two cause of lung cancer death among people who smoke, and the number one cause of lung cancer death for those who do not smoke.
Contact Jerry's Waterproofing to learn more about all that we offer the people of Carroll, Iowa.