Ceiling Cracks in Iowa and Nebraska
---
Whether your home is settling, aging, or showing signs of water damage, ceiling cracks can be a major concern for homeowners. Not only are cracks unappealing to the eye, but they may also indicate a much larger problem such as foundation failure. Getting them inspected could prevent them from becoming worse over time and prevent your home from being damaged any further. At Jerry's Waterproofing, we can determine the cause of your ceiling cracks. We offer the most effective foundation repair methods to prevent spreading ceiling cracks in your Nebraska and Iowa home.
What causes ceiling cracks? Regardless of your home's age and building material, all homes are subject to movement. But not all movement is caused by aging. Some movement is caused by soil-related issues and excess moisture, such as seasonal shrinkage and expansion due to fluctuating temperatures. Other factors include:
Weight and force from the floor above
Weak foundation
Roof damage
Poor workmanship
Plumbing leaks or broken pipes
Truss uplift
When trying to decide if your cracks are structural, look for the following signs:
Matching vertical cracks
Bowed ceiling
Dip in the ceiling accompanied by ceiling cracks
Large cracks more than 1/16 inch wide
Wide, long multiple cracks
Cracks across the middle of a room
Non-structural cracks are harmless. These types of cracks include spider web cracks and fine line cracks. They usually run throughout the home and along the edges of a ceiling, wall, floor, or slab.
Ceiling Crack Repair in Iowa and Nebraska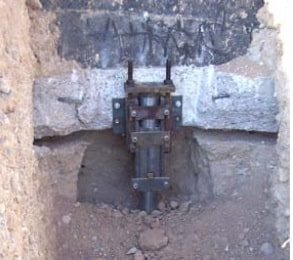 To repair ceiling cracks, we may use steel push piers by Earth Contact Products. Steel push piers are made to withstand heavy structural loads. The piers are driven deep into the ground to support and stabilize settling foundations. They lift and support the foundation back to its original position without disrupting the work area. Steel piers will permanently prevent future ceiling cracks from recurring in your Iowa and Nebraska home.
Regardless of what is causing your ceiling cracks, Jerry's Waterproofing has the skills and expertise to locate the problem. Don't ignore foundation issues. They are just a symptom of a much larger issue. Contact us today for quality, professional service in Nebraska and Iowa.