Crack Repair in Iowa and Nebraska
---
Before repairing a foundation crack by sealing it against water entry, it is important to have an expert from Jerry's Waterproofing diagnose the cause of the crack and its effects on the structure. There are a variety of issues that can lead to cracks in your concrete block or brick foundation walls; including water, tree roots, frost heaves, or even incorrectly mixed cement. Whatever the cause, it is essential to deal with the crack as soon as it is noticed. A small crack left unrepaired will most definitely grow into a large crack.
Hairline cracks can be very shallow or quite deep depending on what caused the crack. The hairline cracks in an exposed concrete surface usually have widths that are so small you can barely see them, but they can still be deep. They are usually less than one-eighth of an inch wide or less and run about eighteen inches in length. Although it may be just a small crack in the foundation, it is still important to keep an eye on its growth.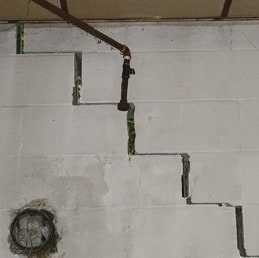 Major cracks are usually defined as more than one-eighth of an inch wide and more than eighteen inches in length. These are excessive in number or unusual.
Stairstep Cracks
V-Shaped Cracks
Straight Horizontal Cracks
Straight Vertical Cracks
Angled Cracks
Whether the crack is a small hairline crack or a major crack, it needs to be monitored. Crack-free concrete is rare, they can appear soon after the concrete was finished or they may not appear for years. Whenever they appear, it can lead to a larger problem if not taken care of. That is why Jerry's Waterproofing offers professional foundation repair solutions.
Crack Repair Solutions in Iowa and Nebraska
To repair the cracks in your basement walls and floor, Jerry's Waterproofing offers a variety of foundation repair solutions. Because cracks in your home and foundation are often caused by settlement or sinking of the foundation, the best way to have them repaired is to lift and stabilize the foundation. This can be done with the installation of underpinning piers like helical piers or steel push piers. For cracks that resulted from shifting foundations and bowed foundation walls, wall plate anchors or helical tiebacks can be inserted to pull the wall back into place and close cracks.
Once the cracks are sealed or mostly closed, we can install waterproofing systems to keep them from causing water problems in the future. It only takes a small crack for water to enter your home. That is why it is important to make sure that the home is properly waterproofed to avoid wet basement issues. Jerry's Waterproofing offers interior and exterior drainage systems, sump pumps, and vapor barriers.
Concrete Crack Lock from Rhino Carbon Fiber
Flood waters can cause structural damage to your house in addition to mold and water damage. The pressure of the water can push your walls and floors out of alignment, causing cracks throughout your house. Rhino Carbon Fiber has a revolutionary product called Concrete Crack Lock. This product will help prevent your concrete floor cracks from growing and causing more damage.
The professionals at Jerry's Waterproofing are educated in identifying foundation wall cracks. Any foundation wall crack that increases in size and/or is larger than 1/4" should be evaluated by our professionals. Call us today to take care of your foundation cracks to prevent further damage.