Foundation Leaks in Nebraska and Iowa
---
Water leaking into your home can lead to damage throughout the entire home. One place that water can get into your home is from foundation leaks. When water is leaking through your foundation, it is important to contact a professional to come and inspect your home. The professionals at Jerry's Waterproofing will give you a free inspection and offer you the best solution to get your foundation leak repair in Nebraska and Iowa done.
Water entering through foundation leaks can cause many issues throughout the home. Some of these issues are: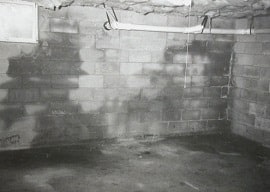 Floor damage
Wall damage
Mold and mildew growth
High energy bills
High humidity throughout the home
Loss of living space
Loss of personal possessions
Wood rot
Rusting
Due to the freeze-thaw cycle and hydrostatic pressure from the ground, foundation walls can become weak and cracked, causing water to leak through them. This impacts all types of foundations: stone, concrete blocks, poured concrete. To know if you have foundation leaks, look for some of these things:
Cracks in the foundation from either the top or bottom of the foundation
White deposit in any area of the foundation
Paint that has peeled or is bubbling
Mold or mildew that has accumulated
If you notice any of these signs of foundation leaks in your Iowa or Nebraska home, contact Jerry's Waterproofing for a thorough inspection.
Foundation Leak Repair in Iowa and Nebraska
Jerry's Waterproofing will inspect your home and offer you the best foundation leak repair for your needs. If water is leaking into your home through the foundation, we have several waterproofing methods to keep the water away from your foundation and basement. These solutions include:
Basement drainage - Our basement drainage system consists of a sump pump and floor drain. This basement drainage system can be installed in new construction or in an existing home.
Sump pumps - A sump pump turns on when the sump pit reaches a certain level and pumps the water away from the basement and foundation.
Battery backup sump pumps - A battery backup sump pump is installed in case there is ever a power outage and the primary sump pump is not working.
Waterproofing membrane - A waterproofing membrane is applied to foundation walls to prevent water from entering. Our waterproofing membranes include a drainage board for unsurpassed performance.
All of the products we use for basement waterproofing and foundation leak repair are the very best in the industry. They are manufactured by Earth Contact Products (ECP), the leader in foundation repair and basement waterproofing products in the industry today. With these products and the experience of the team at Jerry's Waterproofing, you can be assured that your foundation leak repair in Nebraska and Iowa will last for many years to come.
We are locally owned and operated so we will be with the project from start to finish and afterward for any of your questions or concerns. We take pride in our work and have established an outstanding reputation. Contact Jerry's Waterproofing today for any of your foundation leak repair needs in Iowa or Nebraska