Garage Foundation Problems in Omaha, NE
---
Most homeowners think foundation problems only occur to their houses. In reality, garages can also suffer from foundation issues. In Omaha, NE, many homeowners require foundation repair for cracked concrete slab, foundation settlement, and shifting foundations in garages. Attached garages can affect the home as well. For your garage foundation problems, contact Jerry's Waterproofing today.

The most common telltale signs of foundation problems include:
Garage Foundation Solutions for Omaha, NE
Foundation issues are caused by inconsistent moisture levels in the soil and fluctuating weather conditions. Due to excessive rainfall, the soil absorbs too much water and expands. This creates pressure against the foundation walls, forming cracks and bowing walls. Saturated soil can also cause soil erosion, washing away the soil and creating voids under the foundation. Not enough water can also play a factor for foundation problems in your garage. Dry, hot conditions can dehydrate the soil under the foundation, causing the soil to shrink over time.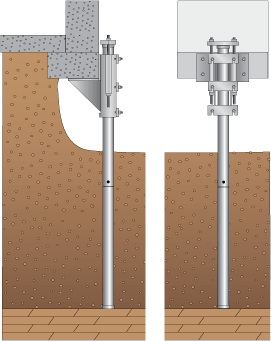 The experts at Jerry's Waterproofing can find the cause of your foundation problems for your garage in Omaha, NE. We offer foundation repair solutions such as helical piers and steel push piers. Both piers offer unlimited benefits, such as:
Year-round installation
Little to no disturbance to the work area
Permanent, effective foundation repair method
Can be applied from either outside or inside of the home
Steel push piers and helical piers are designed to restore your property's value by lifting the foundation back to its original position. They have a fast, quick installation process that is generally faster than other methods. Our products are made by Earth Contact Products (ECP), the leading manufacturer in underpinning, providing us with the latest products on the market.
Contact Jerry's Waterproofing today for professional foundation repair solutions in Omaha, NE. For more information or a free estimate, give us a call. Our experts will determine the best method for your needs.