Omaha, Nebraska
---
Basement Waterproofing in Omaha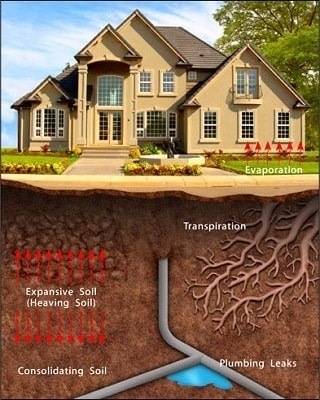 In Omaha, Nebraska, our experts are trained to find the source of the problem to keep water from entering your home. Our waterproofing solutions include a variety of drainage systems to restore your basement's usability:
Exterior Drainage System: The installation process involves digging around your entire home with little to no disruption to your landscaping. This system uses a drainage sump that pumps water outside of the home.
Interior Drainage System: Interior drainage systems can be installed above the concrete slab, within the slab edge, or beneath the slab. All solutions are made to block water from entering your basement and pump water to the exterior of your home.
Our products are made by Earth Contact Products (ECP), the leading manufacturer in the foundation repair and basement waterproofing industry.
Foundation Repair for Omaha, NE
Foundation repair can also help to keep water out of your home, as it will keep your foundation from sinking into the ground or becoming cracked. The better shape your foundation is in, the better shape the entire home will be in. Common foundation problems include a settling foundation, bowing or leaning basement walls, and foundation cracks. If you see any of these in your home, invest in foundation repair as soon as possible.
If you see signs of a settling foundation, your best option is to let us install helical piers or steel push piers. These support the home from underneath by finding stability in the soils deep underground, beneath the shifting top layers of soil. Once the foundation is stabilized, it can be lifted to its original position. Shifting foundations can be restored to normal by adding helical tiebacks or wall plate anchors, installed underground to pull the foundation into place.
Other Services for Omaha Homeowners
Crawl Space Repair: Wet crawl spaces in Omaha can compromise the structure of your home and become a major health concern. We offer crawl space repair for the residents of Omaha. Our products include vapor barriers and sump pumps.
Egress Window Installation: Jerry's Waterproofing is the egress window installers for the residents of Omaha, Nebraska. We offer two great window well systems: Bilco's StakWEL and Bilco's ScapeWEL. Both products are ideal for new construction and remodeling projects.