Should I Worry About Mold in My Crawl Space?
Have you heard about the benefits of a vapor barrier? Moisture in your crawl space can bring on some unwelcome issues in your home. The rainy summers and snowy winters in eastern Nebraska and western Iowa can wreak havoc on your crawl space. The high water table will cause the water to pool under the crawl space and enter through the cracks.
High humidity and an unpleasant smell of mold and mildew can certainly make your house uncomfortable. Most importantly, though, these issues can have effects on your health. And if the water damage gets worse, it can create more severe foundation problems. Additionally, a buildup of moisture can also rot the floor joists and subflooring of your home or harm electrical components in the area as well.
At Jerry's Waterproofing, we believe that knowing the signs of unwanted moisture and having quality crawl space repair will help keep you home in top shape for years to come. Be on the lookout for the following signs:
Cold upper-level floors during winter
Rusty metal appliances
Insect infestation or rodents
Pooling water
Wet, damp crawl space floor
Wet insulation
Open crawl space vents
Respiratory issues
Peeling paint on home's exterior
High radon levels
Wood rot
Efflorescence on crawl space walls
Condensation on ductwork and pipes
Crawl space mold and mildew growth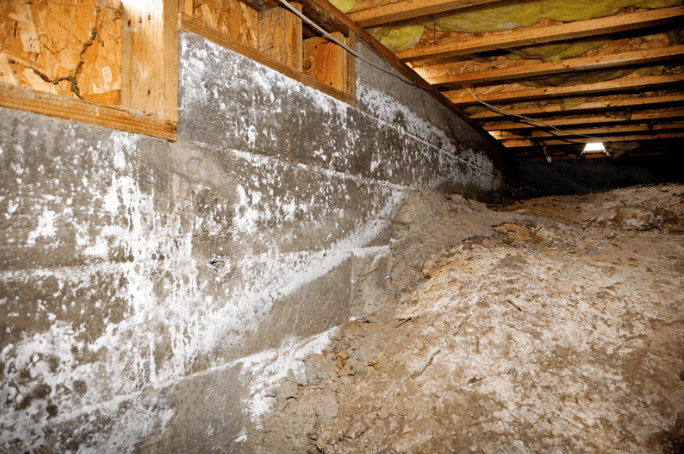 Crawl Space Encapsulation as a Solution
Vapor barriers and crawl space encapsulation are designed to stop water from getting into a crawl space. Jerry's Waterproofing uses vapor barriers made by Earth Contact Products (ECP). They are made from an impermeable material that reduces the amount of moisture that is allowed into the space, stopping the movement of water vapor.
The ECP product used will provide years of service. The material provides the best strength to weight ratio coupled with using the highest tensile strength and tear resistance of any product in the industry.
Keeping your home healthy starts from the ground up. Keeping your crawl space dry creates a healthy environment for you as well as your home.
By calling a professional for your crawl space moisture, you will be assured that the products and equipment used are of the highest quality. Trying to waterproof a crawl space yourself, will cost you time and money in the long run.
Inexpensive vapor retarders sold in hardware stores are usually 6-mil thick — too thin to keep moisture out. They also frequently tear and puncture, leaving them useless.
The products that Jerry's Waterproofing uses range from 10-mil to 16-mil thick. Not only are they thicker, but the woven product makes them stronger than a poly sheeting product.
Benefits of a Vapor Barrier
Vapor barriers can improve both your quality of life and the value of your home. Beyond the obvious function of providing moisture control, there are several additional benefits of a vapor barrier. These include:
Keeping the Elements Out: A vapor barrier helps keep moisture out, preventing growth of mold, wood rot, and pest infestations, therefore making it safer for you and your family. It also protects your home's piping and electrical wiring as well.
Improved Air Quality: Some of the air in your house comes from the air under your home. When you keep your crawlspace free of mold and mildew, you create a cleaner breathing environment for the whole house.
Energy Efficiency: A crawlspace with too much moisture will have high humidity. High humidity causes your HVAC system to work harder, and when your HVAC works harder, energy bills are bound to go up.
Usable Space: A wet and moldy crawl space can make it feel like wasted space. However, when properly protected with a vapor barrier, it can give you the extra square footage you need for storage.
Jerry's Waterproofing Helps Keep Your Crawl Space Dry
Start Enjoying the Benefits of a Vapor Barrier today!
A clean, dry crawl space is a key component to keeping the structure of your home in shape. Jerry's Waterproofing offers premium vapor barriers and other effective waterproofing solutions to prevent damage to your foundation. Contact us today for a free quote.
---