Foundation Repair, Waterproofing, Crawl Space Encapsulation, Radon Mitigation & Egress Windows in Norfolk, NE
---
Foundation Repair in Norfolk, NE

Norfolk, Nebraska has an average rainfall each month of 2.2 inches which means that homes in this area could easily develop basement moisture issues due to leakage. Foundation problems resulting from excess water buildup are also a possibility. Fortunately, Jerry's Waterproofing offers several different services to help you return your home to its normal state, keeping your family healthy and safe for years down the road.
Look around your home and look for some of the signs of foundation settlement.
To level a foundation that has started to sink into the ground, we install helical piers or steel push piers. Helical piers screw into the ground under your foundation to add extra stability. Steel piers are driven into the ground and work in the same way to add support and lift the foundation. Shifting foundations are usually repaired using helical tiebacks or wall plate anchors, which are installed through the basement wall to reposition the foundation and to reduce soil pressure from outside.
Basement Waterproofing for Norfolk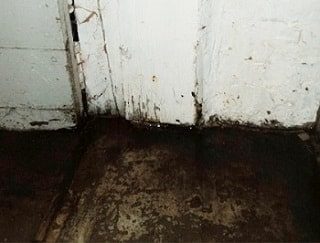 Basement flooding is another common issue. If this happens in your home, it is important to have it taken care of right away. Sometimes, the signs of a wet basement are obvious, while other times they are much more subtle. Musty odors, rusty appliances, wood rot, and mold growth are some of the less commonly known symptoms of a basement leakage problem.
We offer interior waterproofing and sump pump systems to remove water from wet basements. We also provide exterior waterproofing and surface drainage options to help prevent future water problems in your home.
Other Services in Norfolk, Nebraska
Crawl Space Repair: To seal moisture out of the crawl space and prevent vapor diffusion through the concrete, we use crawl space vapor barriers.
Radon Mitigation: We offer radon testing and mitigation to reduce high levels of radon.
Egress Window Installation: We install high-quality egress window well systems to make sure your family can escape from your basement in the event of a fire or emergency situation.
Our quality workmanship, dedication to the job, and top-notch products from Earth Contact Products (ECP) allow us to make sure your home is safe and sturdy. Call our expert team today for a free estimate in the Norfolk, NE area.