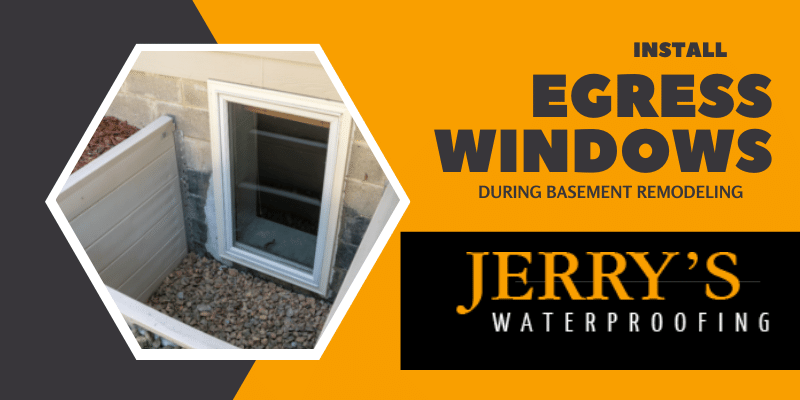 Finishing your basement is a good way to add livable space to any house, but a finished basement, particularly with the addition of bedrooms, has additional criteria that need to be met. When you are beginning to draw up your plans, be aware that you may need to install egress windows during your basement remodeling project.
What is an egress window?
You may be wondering "What is an egress window?" Egress windows are a popular choice for many homeowners and the reasons all revolve around safety, functionality, and compliance with building codes. Most importantly, these large window openings offer a secondary exit in case of an emergency. The larger openings afforded by egress windows provide a safe and accessible emergency exit route from the lower level rooms in case of fire or other emergencies. They are essential for ensuring the safety of occupants in residential buildings, particularly in basements and below grade bedrooms, where traditional above ground exits may not always be accessible.
Do I NEED to install egress windows during basement remodeling?
If you are building a new home, building codes strictly dictate and mandate the installation of egress windows. In most cases, older homes do not have egress windows, especially in areas where building codes did not mandate them at the time of construction. Typically, the basement area of older homes was used for storage and utility space, not as a living area. Therefore, these types of windows were not as prevalent. If you own an older home, the probability of having above-ground narrow windows is high. Unfortunately, these windows are too small to enter or exit, so the basement will need an update if you choose to add a bedroom. As building codes have been updated to prioritize safety and emergency preparedness, many jurisdictions now require egress windows.
Installing egress windows in an older home can significantly enhance safety, increase property value, and provide peace of mind for homeowners and occupants. As an additional bonus, they add more natural light and make your basement feel more inviting.
There are many options of windows that you can choose from such as casement, sliding (gliding) and double hung. Consulting with a qualified contractor such as Jerry's Waterproofing is recommended to determine the best fit for your specific situation.
More Information
Overall, egress windows are a very important feature in bedrooms and below-grade living areas, offering a reliable means of escape during emergencies and contributing to the overall safety and habitability of your home.
If you in the planning stages of remodeling your basement and have more questions, contact Jerry's Waterproofing! We are experienced in the installation of egress windows and will be happy to answer any and all questions!
---