Crawl Space Mold and Mildew
---
If your foundation has a crawl space, it is a very important area of your home. It is the base of your home and it needs to be examined from time to time to make sure it is safe and dry. A wet crawl space can cause wood rot which, in turn, will cause your home to have many structural problems. Another reason to check your crawl space is that a wet crawl space can promote the growth of mold and mildew. It is not always obvious that you may have moisture in your crawl space. Jerry's Waterproofing offers you some of the signs that your home may have a wet crawl space:
High humidity
Damp walls or floors
Musty odors
Water stains
Wet or damp insulation
Condensation on pipes or ductwork
If you see any of these signs that you have a damp crawl space, it is important to contact a professional that can come and inspect your crawl space and offer crawl space repair and recovery. The team at Jerry's Waterproofing offers crawl space repair.
Mold and mildew thrive in damp, dark areas such as a crawl space. This mold and mildew will get into the air that you breathe causing health issues for you and your family such as:
Coughing
Sinus congestion
Runny nose
Eye irritation
Respiratory problems
Throat irritation
Sneezing
Asthma
Don't let a wet crawl space cause you and your family to have health issues. Jerry's Waterproofing can help.
Crawl Space Mold and Mildew Solutions in Iowa and Nebraska
Jerry's Waterproofing can keep your crawl space dry and safe with a vapor barrier. This vapor barrier will prevent moisture from entering your crawl space. It is a non-permeable wall that is puncture resistant to not only prevent moisture from entering your crawl space, but also block harmful gases such as radon from entering your crawl space and home.
The vapor barrier that we use is the best made in the industry by Earth Contact Products. It is thicker than most all other vapor barriers and is puncture resistant.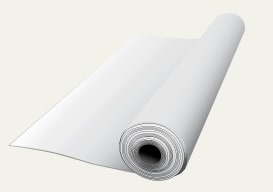 The team at Jerry's Waterproofing also offers several other waterproofing options to keep water away from your foundation and your crawl space. These options include:
Gutters and downspouts
Interior drainage system
Exterior drainage system
One of the first things we look at is your gutters and downspouts. We will add extenders if needed to keep water from pooling around your foundation. We also will correct the grading of the land around the foundation if necessary. These solutions will be performed before any below ground solutions are implemented.
Don't let a wet crawl space cause you to have mold and mildew growth in your home. Invest in one of our quality waterproofing solutions today. Let the professionals at Jerry's Waterproofing find the best solution for your basement waterproofing needs. Contact us today!