Damp Crawl Space Problems in Omaha, NE
---
Pooling water and water seepage into your crawl space can be the most frustrating problem experienced by many homeowners. These issues can be both short term and long term, producing devastating effects on your home's structure. Standing water can also make it difficult to gain access to electrical circuits, utilities, and maintenance issues. The main reason why most homes have high humidity and moisture levels are usually caused by wet crawl spaces. Jerry's Waterproofing can help with damp crawl space problems.
Wet crawl spaces can also produce the following issues:
Wood rot
Musty odor
Surface condensation
Unhealthy conditions
Foundation failure
Wall settlement
Poor air quality
Increased utility bills
Buckled or warped hardwood floors in the upper living area
Insect infestations
Deteriorated floor joists and beams
As water seeps underneath the foundation, the soil erodes. This leads to foundation movement and cracking. Over time, the excess moisture penetrates the sub-flooring causing the floors to buckle or warp. Doors and windows become difficult to open and close. You may also notice a spike in your utility bills due to the under-flooring insulation collecting too much moisture. Don't let wet basements reduce the value of home. Make sure you know the causes of your wet crawl space so you can avoid major foundation repair. Jerry's Waterproofing can help you take care of small problems before they become big ones.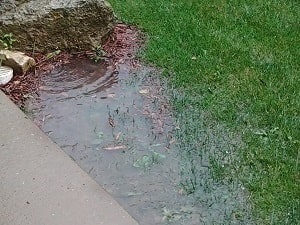 So what are the main causes of wet crawl spaces? Most damp crawl spaces are caused by surface water from inadequate drainage systems. This can be caused by the following:
Clogged or lack of gutters
Improper downspouts
Saturated flower beds and landscaping too close to the foundation
Plumbing leaks
Poor soil conditions
Homes built on a downslope
These water-related conditions cause soil issues such as soil erosion and expansion underneath your foundation. As a result, your foundation starts to settle, move and crack. Jerry's Waterproofing offers effective crawl space repair techniques to keep your crawl space free of moisture in the Omaha area.
Solutions for Damp or Wet Crawl Spaces in Omaha, NE
The professionals at Jerry's Waterproofing offer crawl space repair, recovery, and waterproofing solutions for the residents in Omaha, NE. We fix damp crawl spaces by installing vapor barriers, interior/exterior drainage systems, and sump pumps.
Vapor Barriers
A vapor barrier, made of impermeable material, is designed to stop water from moving into your living area. It also controls ground moisture to prevent wood rot and other water damage in your crawl space. Vapor barriers offer the following benefits:
Protects your home from harmful gases such as radon
Guards against mold, mildew, and allergens
Improves the air quality of your home
Reduces utility costs
Eliminates heat loss
High tensile strength and tear resistant material
Sump Pumps
Another solution for wet basements are sump pumps. Sump pumps can be used to divert water from your crawl space to your home's exterior. They remove water that accumulates around and under the foundation. Sump pumps are energy-efficient and can pump up to 5,000 gallons per hour.
Interior Drainage System
Interior drainage systems involve removing and replacing the concrete around the slab edge. A drain pipe is installed under the slab to drain the area to a lower level. A sump pump is attached to the drainage pipe to divert water to the home's exterior.
Exterior Drainage System
The exterior drainage system uses several components to remove unwanted water from your home. These components include waterproofing membrane, dimple drainage board, perforated drain pipe, drain pipe fittings, sump basin, back up sump pumps, and sump pump discharge freeze guard. They all work together to complete the exterior waterproofing system.
The experts at Jerry's Waterproofing know how to keep your crawl space safe and dry. We use quality products made by Earth Contact Products (ECP), the leading manufacturer in the waterproofing and foundation repair industry. Give us a call today if you have a wet, damp crawl space. We serve the residents of Omaha and Lincoln, NE.