Crete, Nebraska
---
Foundation Repair in Crete

The homes in Crete, NE are prone to having foundation issues due to the ever-changing moisture content in the soil. As the soil gets wet from heavy rains, it will expand. Then, during times of drought, the soil will shrink. This constant shifting of the soil will also cause your foundation to continually shift and move. This movement will eventually cause foundation problems. Jerry's Waterproofing has some signs to look for that may indicate that your home is in need of foundation repair. Some of these signs include:
If you see any of these signs, we will install either steel push piers or helical piers to repair your foundation. These are driven into the ground through the unstable soil layers until they reach the solid layers of soil deep underground. Each pier is then load tested, and after testing, the entire weight of the structure is transferred onto the piers using hydraulic jacks. The foundation is then returned to its original level and is structurally sound again.
Basement Waterproofing in Crete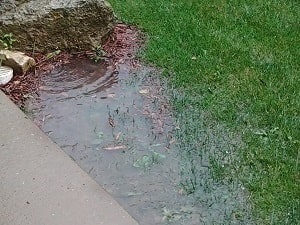 Basement water problems can cause you to lose personal possessions and lose living space. Excess water also creates an environment for mold and mildew growth, which can cause you and your family health problems. A wet basement can be obvious, however, there are other signs of a wet basement that are more subtle, such as:
Wood rot
Rusty appliances
Mold and mildew
If you are in need of basement waterproofing, we offer both interior and exterior waterproofing services along with sump pumps and battery backup sump pump installation. We also offer crawl space encapsulation using a thick puncture-resistant vapor barrier.
Other Services for Homeowners in Crete
We also offer radon mitigation services and egress window installation, designed with you and your family in mind. Our radon mitigation services protect your family from hazardous radon poisoning, and our egress windows are installed to ensure your family a quick and safe way to exit your home in case of an emergency.
If you've ever experienced water in your basement or crawl space, do not let the problem sit around and get worse. Moisture can do a lot of damage to your home and it is best to take care of the problem before it gets worse.
Contact the experts at Jerry's Waterproofing for all of your foundation, waterproofing, and radon services in Crete.