Jerry's Waterproofing
Basement Waterproofing & Foundation Repair Omaha
Jerry's Waterproofing, Inc. has been providing professional waterproofing and foundation repair for Eastern Nebraska and Western Iowa for over thirty years. Our team is skilled at fixing the basement water problems and foundation issues in your home. Many homeowners in Nebraska and Iowa are alarmed when they discover signs of a leak or of foundation settlement in their home. Fortunately, Jerry's Waterproofing team can provide you with a customized solution that will get your basement and home back to normal in no time. Keeping you safe, healthy, and satisfied is our number one concern. In addition to various waterproofing and foundation repair services, we also provide radon testing and mitigation and crawlspace repair services. The experts at Jerry's will work hard to make sure that the project is done quickly and professionally in exactly the manner you expect
If you notice issues with water in your basement, you may need to invest in waterproofing to get rid of the moisture and possibly in foundation repair to ensure that your home does not develop any further issues. Some of the services that we provide for residents of the Omaha, NE area include: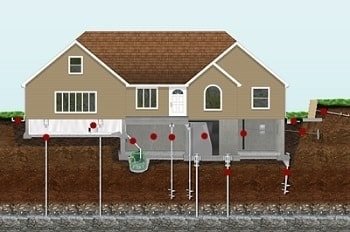 Why Choose Jerry's Waterproofing in Nebraska and Iowa
Our years of experience has us at an advantage compared to our competition. We know how to handle each repair job and it is done in a professional and timely manner. We make sure that you know what is going on with your home by keeping you informed throughout the process. No matter if you have a cracked foundation, wet basement, in need of a new basement window, or radon testing, our team can handle it. After we have finished your job, we will clean up and you will never know we were there.
We also use only the highest quality products for all of our repair work. The products that we use for our jobs come from ECP (Earth Contact Products), the top name in the industry when it comes to foundation repair and basement waterproofing products. Using these products along with our professional repair methods allows us to give your home the stability and protection it needs.
Take a look around our website to learn more about how we can help with your waterproofing and foundation repair needs. Contact us today to request a free estimate or to speak with one of our qualified representatives about your repair needs in Omaha, Nebraska and surrounding areas.
At Jerry's Waterproofing, Inc., the customer always comes first.