Foundation Repair, Waterproofing & More in Council Bluffs, Iowa
---
There are many signs that something is structurally wrong with your home. Cracks might start appearing on the walls and ceiling. Floors may begin to feel spongy. A musty smell might permeate the house. Your doors and windows might stick. Your basement may take in water every time it rains more than a sprinkle. Regardless of if your Council Bluffs, Iowa, home needs waterproofing, foundation repair, crawl space encapsulation or one of our other services, Jerry's Waterproofing can fix it in a professional manner.
Read More About Our Services
Basement Waterproofing for Council Bluffs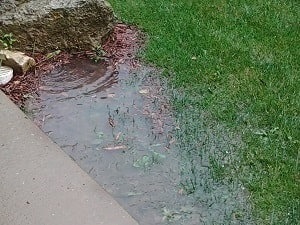 Water damage can be very stressful to deal with in your Council Bluffs home.
If the water is not under control, then you could be looking at many more problems than just a wet basement. When the water is not properly removed, the moisture can stay in your home. This causes mold and mildew and it also attracts insects and other pests into your home.
And this is on top of the time and expense it takes to clean up after the basement floods.
One way to deal with flooding in your home is to have a sump pump installed. This, especially when coupled with an interior drainage system that directs the water to the sump pump, conveniently gets rid of the water from coming into your Council Bluffs home.
You may also want to install a backup pump. It can do more work than a single pump can when the serious floods come in or step up if the primary pump fails. Our professionals can install a sump pump for you so that you do not have to worry when the heavy rains come. Jerry's Waterproofing can also install an interior and exterior drainage system, as well as crawl space encapsulation. By combining these systems, you can effectively protect your home from moisture.
Jerry's Waterproofing also offers an exterior waterproofing options to go along with the sump pumps and other interior waterproofing solutions.
This way we can implement the solution that best fits your home and water problems and not just go to the same default regardless of the circumstances.

Foundation Repair in Council Bluffs

Foundation problems don't only show up around your home's foundation. When foundation problems exist, they can impact the entire house from top to bottom.
Among the common problems caused by foundation issues are:
Slab floor cracks
Wall cracks
Sloping floors
Sticking doors and windows
Porches pulling away from the house
Slanting chimneys
If you begin to notice these problems, call Jerry's Waterproofing for a free estimate. We can determine what is causing the foundation problems and prescribe a solution that will keep your foundation from inflicting even more serious problems on the rest of the house.
We use the following methods to repair issues with the foundation or with the related problem of bowing or buckling basement walls.
Steel Push Piers - These are driven into the ground underneath the foundation to support sinking concrete and lift the structure.
Helical Piers - While these work in much the same way as steel piers, they are screwed into the ground instead of driven in because they have helical plates.
Wall Plate Anchors - These attach the basement wall to an adjacent anchor in the soil, pulling the bowing or leaning wall back into place.
Helical Tiebacks - Tiebacks are installed horizontally through leaning basement walls and work like helical piers flipped on their sides to pull the wall straight and stabilize it going forward.
These devices, from Earth Contact Products (ECP) can help you keep your foundation from suffering typical foundation problems, like sloped floors and foundation cracks.
Radon Services for the Council Bluffs Area
Jerry's Waterproofing offers radon testing and radon mitigation for homes in Council Bluffs, Iowa. Most homeowners aren't aware of radon issues in their home because they have never heard of this deadly gas. Radon can enter your home through holes, such as mortar joints, sump pumps without lids, drain tiles, and even floor/wall cracks. If you have high levels of radon, we can lower the gas levels by collecting and expelling it from your home.
To invest in foundation repair, waterproofing, or radon services in Council Bluffs, IA, contact us today.